For anyone that doesn't know me (which is pretty much everyone that visits this site), I am really BIG on music. For a typical week, I have to at least by 1 new cd. I really want to just go out some day and buy a huge number cd's, that would be fun. I am so glad my truck has a CD player, road rage just wouldn't be as fun! I also get to listen to music all day long since I work on a computer.

TOP 5

---
This is just a reflection of what I view as the top 5 albums. These were picked based on how much I listen to them, which would mean about 20 - 30 times a week!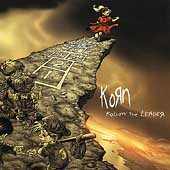 1. KoRN - Follow the Leader

2. Marilyn Manson - Mechanical Animals
3. The Crystal Method - Vegas
4. The Deftones - Around the Fur
5. Creed - My Own Prison

other favorites ( most of the following link to other sites ) :

TRIBUTES

---
The following links are my personal tributes to my favorite bands. They provide me with a lot of inspiration for my life and help me in so many ways.

KoRN


Type O Negative (my first site!)

---
Copyright &copy 1999, H-Zone Productions. Site optimized for 800x600.